Solo Music
2015 debut solo album, First In Line.
Music for the video game Targeted!
Streaming Player for Targetted
Music
Shakin woods is a DC-area blues-rock band that has released 3 4-song EPs in 2021, receiving worldwide airplay, charting on the Roots Music radio charts, and 2020 WAMMIE awards finalist
Blues Proper Sessions Vol. 2
Shakin Woods
0:00/4:05

0:00/3:51

0:00/4:45

0:00/2:25
Blues Groove Sessions #1
Shakin Woods
The Creaky Bones are an Americana, Roots-Rock band from Northern Virginia.  Previously named The Virginia Southpaws, they have released a full-length album, as well as several singles in 2020.
The Virginia Southpaws
The Creaky Bones
0:00/2:48

0:00/2:41

0:00/2:55

0:00/3:44

0:00/3:43

0:00/3:17

0:00/2:55

0:00/4:00

0:00/4:21

0:00/4:04

0:00/3:17

0:00/3:52
Rich is the bassist for The Jones, one of DC's longest active Rock bands, with 2 full-length orginal albums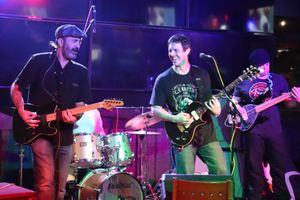 Bio
Rich Russman is an American guitarist, bassist, vocalist, composer, instructor, and recording engineer.  Specializing in Blues and Rock music, he has written well over 100 original compositions for numerous bands.  In addition to his work as a solo artist, he has founded Shakin Woods, an American Blues band, The Creaky Bones, an Americana Rock band (co-founded with Mike Jones), and Halfway to Concord.

Rich is also the bassist for The Jones, a log-running DC Rock band, and an Audio Production Engineer for Youtube's The Crossover TV. 
Growing up in a family of music lovers, Rich was first inspired by the songs of the sixties.  Piano lessons established a solid musical foundation, and then he soon moved on to guitar. 
His inspierations include Jimi Hendrix, Eric Clapton, SRV, Gary Moore, The Allman Brothers, and The Who, BB King, Albert King, Howlin' Wolf, Elmore James, Freddie King, Muddy Waters, Robert Johnson, Robben Ford, and Sterling Magee. 
He has been fortunate to perform all over the US at memorable venues in San Diego, NYC, New Orleans, Cleveland, DC, Maryland and Virginia, sharing the stage with acts such as Yngwie Malmsteen, Eddie Money, The Record Company, Eli Paperboy Reed, Old Dominion,  Ernie Williams and the Wildcats, and Five for Fighting. 
Rich's approach to The Blues feeds off high-energy funky grooves and doesn't turn its back on The Delta roots or the Marshall-stack successors.  The guiding principle is raw and fun.